Johnny's magic act virtually bursts at the seams with the most sophisticated effects in all of magic. The magic show begins quickly and dynamically: Johnny shows a silk scarf to be empty front and back, and then—voila!—he produces a king-sized Classic Coke® bottle.

Next, Johnny shows his mastery of one of the most difficult and respected areas of magic—coin manipulation. Johnny makes four half dollars walk across the backs of his fingers simultaneously, and then makes a coin fly a full 14 inches upward from his immobile hand.

When Johnny brings out playing cards, he casually but stunningly shows his dexterity, skillfully producing four aces from an exhaustively shuffled deck.

The thimble trick seems to be the cute part of the show--a tiny thimble jumping magically from one finger to another with amazing quickness--but leaves the audience gasping when Johnny reaches into the thimble and pulls out a full-sized eight ball.

Children and adults alike love the sponge balls, tiny red foam-rubber balls that seem to have a life of their own, magically jumping from one hand to another, multiplying, appearing in a nearly endless stream from Johnny's mouth, and finally, transforming into a sponge ball the size of a full-sized crystal ball.

What audiences remember best about Johnny's act, however, is his classic cups-and-balls routine. It is pure Johnny: the best moves, the most incredible effects, and the most magical presentation. And as if that weren't enough, Johnny finishes by lifting up the cups, and from beneath each, out walks a live baby chick.

The finale brings this award winning show to a tremendous finish: Johnny takes a top hat the size of a thimble, and impossibly pulls out 75 feet of metallic silver streamer. Then he picks up the silver streamer, and magically produces a dove. He stands for the applause, and the one dove metamorphoses into two.


His Walk-Around Magic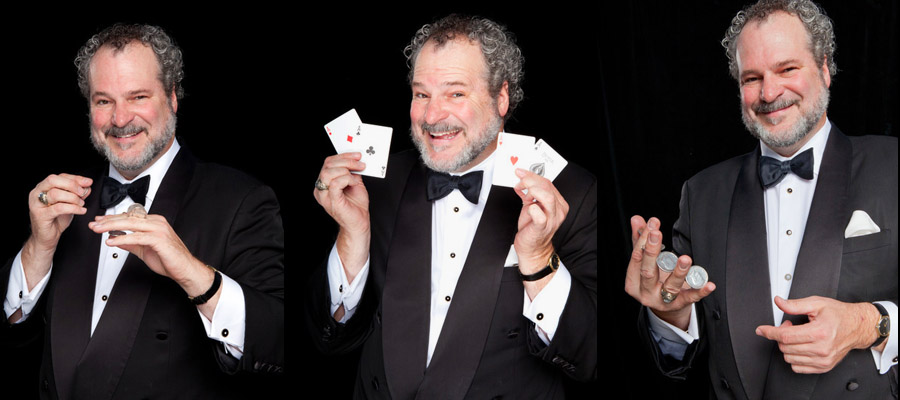 Johnny's walk-around magic translates his award-winning close-up show into a strolling format.

It is appropriate for private parties, receptions, hospitality suites, and other events in which people congregate in small groups.

When Johnny approaches a group, he brings out four pure silver coins. While people watch, Johnny demonstrates dexterity that no one else in the world has achieved. The coins roll along the backs of his fingers and even fall upward! Then they melt through fabric, disappear completely, and magically reappear.

Johnny continues his magic with cards, silk scarves, a ring, rubber bands, and other items. But if you've seen walk-around magic before, rest assured that you've never seen walk-around magic like Johnny's. For example, one coin trick is so extraordinary that no more than five people in the world can perform it.

Johnny's walk-around magic is especially astonishing, because the magic's happening live, not on television. It happens right before his audience's eyes, within arm's reach, and often, right in their own hands. People laugh in amazement. And they gasp as their concept of the universe is momentarily shattered.

And after Johnny leaves, they often remember their extraordinary encounter with him--often only five to ten minutes--for the rest of their lives.