Magic Awards


GRAND PRIX, the highest award in magic
(1988)




Federation Internationale des Societes Magiques (FISM)


CLOSE-UP MAGICIAN OF THE YEAR
(1986, 1987)

LECTURER OF THE YEAR
(1995, 1999)

PARLOUR MAGICIAN OF THE YEAR
(2013, 2017)








The Magic Castle & the Academy of Magical Arts,
Hollywood, California

BEN CHAVEZ MEMORIAL TROPHY

GOLD MEDAL AWARD OF HONOR


Society of American Magicians (SAM)

GOLD CUPS AWARD OF EXCELLENCE


International Brotherhood of Magicians (IBM)

BISTRO AWARD FOR OUTSTANDING ACHIEVEMENT IN CABARET

BISTRO
AWARD
HALL OF FAME

Academy of Magical Arts Awards Johnny
Parlour Magician of the Year—
AGAIN!
Sunday, April 22, 2018, at the Orpheum Theatre in downtown Los Angeles, Johnny was presented with the award for Best Parlour Magician at the Magic Castle in Hollywood by the Academy of Magical Arts for the second time!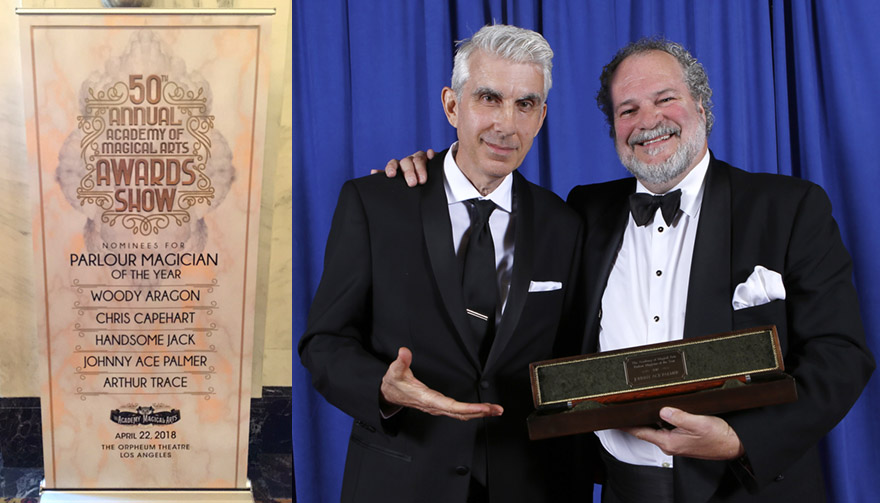 If the hand of the gentleman above standing next to Johnny looks eerily familiar, it's because he's former Stage Magician of the Year, Christopher Hart, whose talents gave life to Thing in the Addams Family movies!!
Phone: 714.373.8749
johnny@johnnyacepalmer.com • P.O. Box 2083, Huntington Beach, CA 92647

Home | Achievements | Awards | Clients | Champion | Video | Reviews | His Act | Now Appearing | Contacts | Links